Circular economy: a second life for devices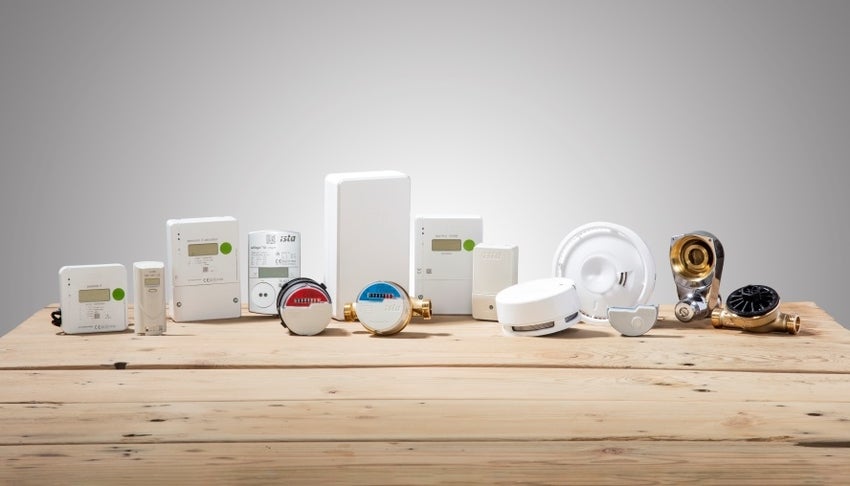 ista has, for some time, been working on the issue of recycling with waste concepts and the Circular Economy Working Group. This also applies to product development which gives devices like the sensonic II heat meter a second life.
In a perfect circular economy, materials do not land in the waste but are re-used again and again. This ideal can seldom be achieved 100 per cent – but companies can do something to get close to it. For this reason, ista set up the Circular Economy Working Group and appointed a Waste Management Officer. Since 2019, this working group has been analysing the flows of recyclable materials in the company, consulting with external partners and testing ideas to avoid waste even better. "We take a very careful look and document what waste is produced over the lifecycle of our devices," says Sustainability Officer, Dr Simon Weihofen. "For example, we have developed an improved labelling system that helps us to re-use even more devices and materials."
Only a holistic approach to the circular economy works
One important realisation has already made it into product development: If you want to increase your recycling rate, you have to already design your products to be recyclable. Devices are then built to be long-lasting and, later down the road, easy to separate into their different materials. Of course, you also need an infrastructure and recycling partners to take back and recycle devices after their use. The circular economy is therefore a concept for which ista needs to network well and plan ahead. The principles:
1. Act in unison
When developing meters or heat cost allocators, ista never loses sight of the ecological aspects of the entire lifecycle. It co-ordinates action with its partners along the value chain: from device manufacture and installation to recovery of the devices at the end of their life. The aim is to make the products particularly long-lived and make it easy to re-use the materials they contain, thus creating a closed-loop supply chain.
2. Rely on quality
ista places high demands on its products: the metering devices must measure extremely accurately, work reliably and be simple to install. That is one of the reasons why our works in Au monitors product and process quality. Random testing procedures and aging simulation and stress tests during production show whether the products meet the requirements. The quality management processes and methods are certified to the ISO standard 9001.
Quality assurance also plays an important role in the circular economy. After all, eco-friendly is what lasts longer.
3. Organise product recovery
What ista does that chimes well with the circular economy principle: most of our devices are leased to our customers, used for some years – and then returned. We already have a time-tested infrastructure in place for these old devices, at least in Europe. Companies dismantle the devices, separate the reusable materials and recycle them. ista works with recycling partners for this dismantling work: in Germany and Luxembourg, they also include workshops for people with disabilities.
One device, several lifecycles
Metering devices for hot water or heating reduce – statistically speaking – energy consumption in the housing sector. There is a simple reason for this: people who are well informed about how much energy they are consuming are more careful about using resources. The metering device itself, on the other hand, is rarely the focus of a lifecycle assessment. That is not right. After all, the products can be optimised very well in terms of the circular economy. ista is showing how it is done with the sensonic II heat meter: the old devices are reprocessed for their second life and installed once again by our service partners. In 2020, ista re-used 76,600 brass housings, 52,800 coils and 39,800 circuit boards from the sensonic II heat meter. Over 131 tonnes of brass were melted down and recycled. That shows it's worthwhile recycling.