New to the job during Corona? How onboarding works
Sylke Sergel is Head of Human Resources at ista and started her job right in the middle of the pandemic. That presents her with a double challenge: to find her place in the team and to make the start easier for the other newbies. An interview about virtual job interviews and digital onboarding.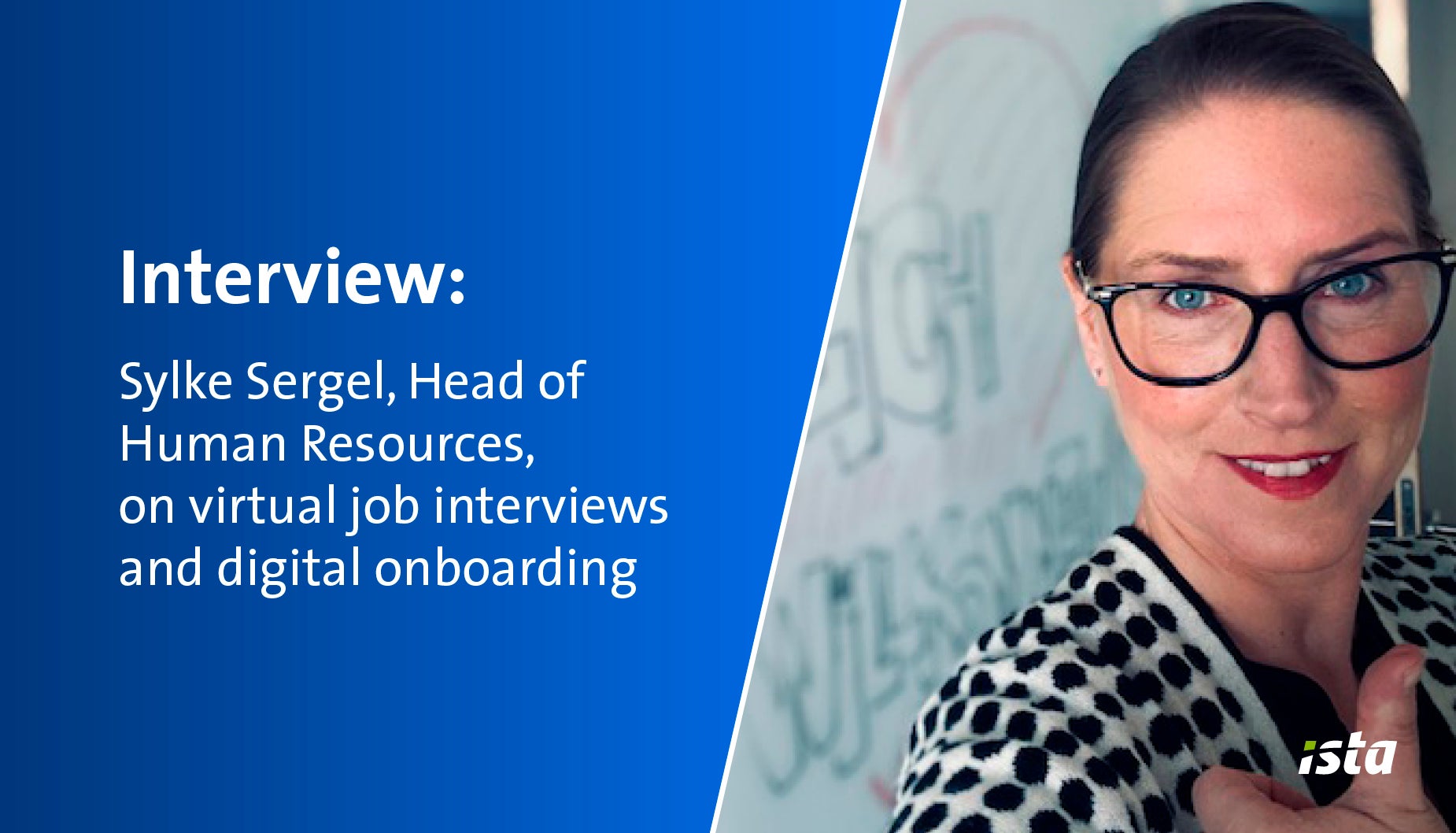 Sylke Sergel, Head of Corporate Human Resources, appreciates being close to her colleagues. She also tries to establish this rapport in virtual meetings and by using digital tools. And she's succeeding.
How does that work – starting a new position in a phase when personal contact is at the very least difficult?
All in all, it went very well for me and much better than I expected. I thought about it a lot beforehand: How will it feel to walk into an empty office? But then I was immediately welcomed by a colleague. Just a little later, I was already sitting in the first virtual meetings to get to know my team and other colleagues. There was a detailed onboarding plan with all the contacts that were important for me. Straight away I felt I was in good hands.
How long did it take before you had the first real meeting of the team?
Many months elapsed between the first virtual meeting and an in-person day for everybody. It wasn't until August that the whole team was in the office at the same time – and even then we only sat down together in groups so as to keep to the social distancing rules.
Particularly when you join a new team, it is important to get a feel for the atmosphere and the way people interact with each other. This is not so easy to do via video conferencing. Many communication signals are simply missing - those indicators beyond words such as gestures, facial expressions, looks or nuances in tone. However, we have found a way to also include personal subjects in remote working. Virtual coffee breaks, online drop-in sessions, mood checks or webinars about mobile working are fantastic alternatives to a chat in the coffee kitchen.
What were the most important challenges in your first weeks?
One of the greatest challenges of these very intensive first months was: not knowing when we could get to know each other in person. But I was very impressed by how quickly and how well ista managed to get its employees working digitally. I too was very soon integrated into normal business. And as and when the situation required, this also meant making it easier for other new employees to get started at the company despite the distance. We now do the onboarding completely digitally.
What does it mean for Human Resources to organise digital onboarding?
Each and every newcomer must be digitally equipped from day 1, for example with IT equipment, Lifesize licences and information in preparation for digital onboarding. The trick is then to achieve the much more important social integration of newbies. We have tried out many formats in the different departments, such as daily check-ins or check-outs or the coffee breaks I already mentioned.
HR had always held Welcome Days, an in-person event. These have now become a digital Welcome Week, one of our flagship projects in digital onboarding. There are a lot of short presentations and a buddy concept so people have somebody to talk to in the breaks. We will keep many of these digital elements, even after Corona, and combine them with in-person events.
What is the reaction to digital onboarding?
The feedback is incredibly positive. The vast majority of new colleagues feel well accommodated by digital onboarding. Many even think that they can network faster and better in a digital environment than in a normal office one. That is certainly also because people's digital mindset has changed. The acceptance of such tools and formats is, quite simply, very high.
Does that also apply to virtual job interviews?
ista continues to recruit. Corona has not led to any restrictions or even to a recruitment stop. All in all, getting to know the applicants first via digital channels works well. There have not been any nasty surprises yet and, once they are here, the people fit into the team well.
However, the pandemic could trigger one major change: Among the applicants are people who live farther away and have no intention of changing that. It remains to be seen whether mobile working becomes a permanent option. After all, spontaneous conversations in the corridor or in the tea kitchen often lead to creative ideas totally by chance. Working from home would not be for me personally as I really love talking face to face with people. Nevertheless, my start at ista via remote working was a great success and a fantastic experience. In this respect, we are real pioneers.