Overview of heat-saving tips for tenants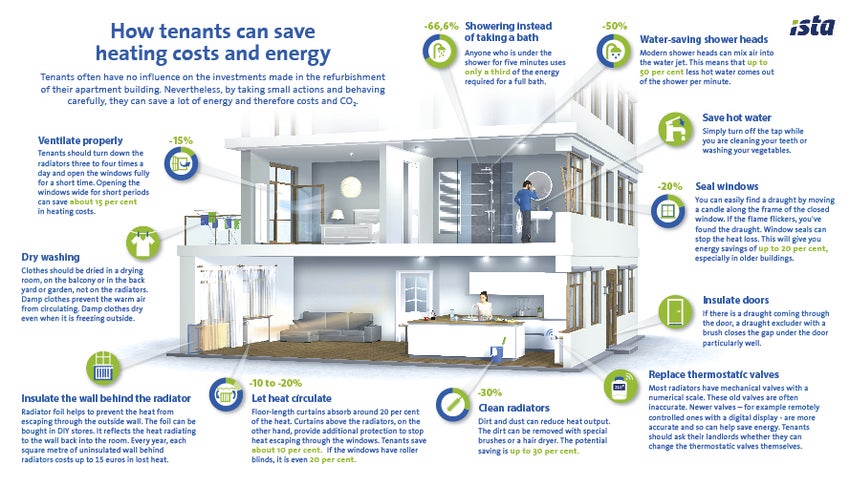 Eco-friendly behaviour also pays off for tenants. After all, people who use less energy in everyday life produce less CO2 and end up paying less. ista summarises the most important tips in an infographic.
At the end of the article you can download this infographic.
What is better – to open windows wide for short periods or leave them permanently ajar? Should I take a shower or a bath? Should I dry my washing on a washing line or on the radiator? Anybody who wants to save energy will find straight answers here. We have prepared an overview so environmentally conscious tenants do not have to search a long time for answers: it is particularly worthwhile changing your behaviour in these places in the home.
Does energy-conscious behaviour pay off?
Studies show that simply knowing your own energy consumption is enough to sustainably reduce it. Experts estimate that the annual billing of heating energy consumption already leads to a 15 per cent reduction in heating costs. Providing consumption updates during the year offers further savings potential. In line with the EED, such updates are planned and this EED requirement is currently being transposed into German law.
Are some energy-saving tips better than others?
How much impact any change in behaviour has on energy consumption all depends on how strictly that change is implemented. Nevertheless, the measures do vary in their potential to make a difference. However, in everyday life, these differences hardly play any role at all: the important thing is to change one's behaviour wherever possible.
When do tenants save most heating energy?
Energy consumption in homes is much higher during the heating period than in spring and summer. Therefore, many tips refer to the cold season. Hot water, however, is required all year round, resulting in heating costs - reason enough to keep a close eye on your consumption.
Conclusion:People who change their behaviour can save costs throughout the year. The more strictly they keep to the changes, the better.
You will find the graphic to print and download here.
During the heating period and beyond, we support you with tips to simply save heating costs. Also take a look at our other energy saving tips: