Sustainability at ista: when climate protection is meant honestly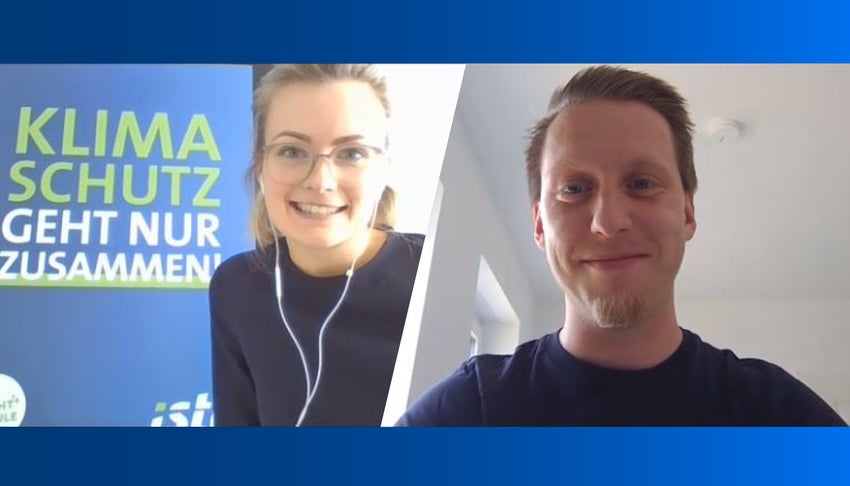 How serious is the company about climate protection? What role do the employees play? Why does ista write a progress report? An interview with Maike Böcker and Simon Weihofen, who are driving sustainability at ista.
Maike Böcker, one of the sustainability communicators, writes the annual progress report together with her colleagues and sensitises employees to climate protection. The enthusiastic cyclist lives by the belief that less is more when it comes to a carbon footprint.
Simon Weihofen, the Senior Programme Manager Sustainability Office, is responsible for the strategy behind the company's sustainability actions. In his private life, a solar system on the roof of his house supports him in climate protection efforts.
ista's sustainability motto is: we help people make their contribution to climate protection. What is the company doing at the moment to put this motto into practice?
Simon Weihofen: When it comes to sustainability, you quickly run the risk of wanting to be active everywhere and losing sight of the big picture. That's why our motto makes it clear that we help people engage in climate protection. Whether it is with products and services that measure individual energy consumption, with information for tenants on how high their CO2 emissions are, with internal projects or in the selection of climate-neutral suppliers. Social aspects and fair working conditions also play a role in the sustainability strategy.
Maike Böcker: One project that we are currently moving forward is an app for residents, owners and property managers that provides information about people's energy consumption and CO2 footprint throughout the year. At the beginning of the year, we also launched the in-house climate protection weeks to promote the conservation of resources. We challenged our colleagues to get active and, for example, save electricity, heat properly and use energy carefully – because of the Corona crisis, partly while working from home. Furthermore, we are involved in long-term projects such as "ista schools in energy efficiency" where we initiate climate protection projects together with school children and have, for example, developed a climate box. In all these approaches, it is all about creating awareness of resource consumption and making a contribution to climate protection.
In an international company like ista, who determines what sustainability goals will be pursued and what projects implemented?
Maike Böcker: We are in constant contact with the sustainability ambassadors in the countries where ista operates and it is we who define the focus of our sustainability goals and projects. However, the countries set their own priorities, for example because they already have contacts with certain organisations. Tree-planting campaigns and other social projects already make a very good contribution to our fields of action and their goals.
That sounds as if the sustainability strategy relies heavily on personal initiative. What role do the employees play in all this?
Maike Böcker: Yes, sustainability is up to each individual in the company. Our approach is to convey the message that everyone can do their bit. Every contribution helps! I have the feeling that awareness for sustainability has increased in recent years. On the one hand, this is because sustainability has become increasingly important to the public and we use the word almost every day. However, it also because of various internal awareness-raising campaigns organised by our sustainability communications team. They mean that colleagues are becoming more involved and taking advantage of opportunities to lead by example and also protect the climate in their everyday work. The more we motivate employees, take their ideas on board and involve them, the greater the effect.
Simon Weihofen: As a company, we of course create the framework for such personal initiatives. Employees get involved in climate protection projects as part of corporate volunteering – and that during working hours. I myself have already trained young "energy detectives". It is fun helping the children find sources of energy wastage and then eliminate them. And even if it only a motion detector that also automatically switches on the light in broad daylight.
The aim of all these individual initiatives and projects is and always will be climate protection. How does ista ensure that on the whole progress is made?
Simon Weihofen: We now automatically document the sustainability efforts and energy consumption in our countries and so we can record and analyse our progress even better. This saves us a lot of time which we can instead invest in achieving our climate protection goals. They are, after all, ambitious: we want to be CO2-neutral by 2050 and already achieve half the savings by 2030. So far, we are doing well as the sustainability report appearing at the end of June also shows.
The latest sustainability report is called the progress report. What is behind the change of name?
Maike Böcker: It is called progress report because in it we document our development in line with the UN Global Compact and its ten principles. This global initiative for responsible corporate governance deals with many social aspects besides climate protection.
As a company, we are not obliged to prepare a sustainability report according to the rather rigid GRI criteria as we are not covered by the CSR Directive. We have therefore departed from this reporting standard in order to become leaner and more precise. Nevertheless, we continue to report on a voluntary basis and are guided by the usual reporting standards. Of course, our sustainability figures are still subject to external and independent auditing to ensure that no mistakes have been made in reporting. I very much hope that the new report is easier to read for customers, investors and anybody else interested and that it conveys what we stand for.
Why does ista prepare a progress report at all or disclose sustainability measures?
Maike Böcker: As the saying goes - do good and talk about it! We want to offer added value and show our customers and society that you can lead by example.For us, this has something to do with credibility. However, the report also helps us to observe ourselves and find out how we are progressing each year on our journey towards becoming a climate-neutral company.
Simon Weihofen: That's right, from data and projects we learn what will help us in the future. One example: we have known for a long time that the main driver of our energy balance in Germany is fuel consumption. In the Corona crisis, journeys to the office or business trips ceased and meetings were held and indeed are still held as video conferences. Our Management Board has taken this as an opportunity to establish a video-first principle in Germany that will also continue after Corona.
But it doesn't always have to be a new idea that takes us closer to our goal. As the Senior Programme Manager Sustainability Office, my main concern in the coming months will be to consolidate the changes already initiated. That is sustainability in the very best sense of the word.