Ventilating in an energy-saving way – here's how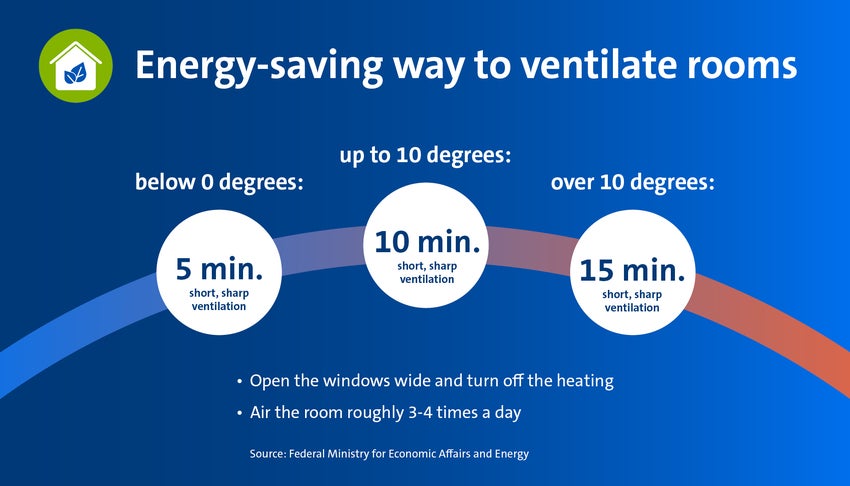 Heat is mainly lost through poorly insulated windows, doors and walls. That's why energy-efficient houses and apartments start with them. However, it is precisely in these buildings that insulation stops the exchange of air. And this can lead to mould growing in the rooms. Proper ventilation prevents this - not only in the winter.
Do you live in a new build or in an apartment that has just undergone energy-efficient renovation? Congratulations! Then the windows and doors help to keep energy consumption for heating low. One disadvantage: because there is no automatic exchange of air, residents of such apartments have to ventilate regularly. If this does not happen, mould can start growing in the rooms. Pollutants from furniture or carpets also accumulate.
However, regular ventilation is not only relevant for residents in new builds or renovated apartments, but also for residents in old buildings. After all, ventilation generally ensures better air quality and less moisture. If you do it right, you will also keep the loss of heat to a minimum.
This is how you ventilate in an energy-efficient way
Turn the radiators off before you ventilate!
Turn down the thermostatic valves before you open the windows so you don't waste any heat.
Open the windows wide instead of leaving them ajar!
By opening windows wide for short periods, you stop the room cooling down too much in the winter or heating up in the summer.
Create a through-draught!
Opening opposite windows - and the doors between them - accelerates the exchange of air.
Ventilate rooms with high humidity levels separately!
Air the bathroom and kitchen with the door closed after you have been showering or cooking. That way you stop the moisture getting into other rooms.
Keep an eye on the time!
How long you ventilate depends on the outside temperature. In the winter five minutes are enough. From about ten degrees, a quarter of an hour is about right, in the summer even half an hour.
Ventilate several times a day!
Opening the windows three to four times a day improves the air quality. In the bedroom, it is enough to air the room in the morning and in the evening
Keep the heat of the summer out!
Ventilate the rooms on warm days at night or early in the morning, if possible. That way the rooms stay cooler.
Reduce the pollen count!
For allergy sufferers, it is also better to open the windows wide for short periods than to leave them ajar for a long time. Pollen forecasts, dusting the rooms and - as an alternative - ventilation systems with pollen filters also help.
Use aids!
Measuring instruments for air humidity or carbon dioxide concentration show when it is time to air the rooms.