What the figures reveal: this is how Europe lives
Where we live shapes our everyday lives – but it also determines how we live. In some European regions, for example, houses are the norm whereas in others it is apartments. We took a look at what other differences and similarities there are.
How do Europeans live? Mainly in large apartments or mainly in small ones? Do they mostly own their home or rent it? If we take a closer look at the figures for 2019, we notice many differences: for example, according to the statistical office of the European Union Eurostat, the home ownership rate in Romania is over 95% whereas in Switzerland only 41.6% live in their own home.
It is not unusual for the type of housing on offer and housing markets to differ within Europe, in some cases greatly. That's precisely why it's worth taking a look at the data. Why? It helps us to better understand the housing situation in our own country.
Town or country?
Whether people live in a town or in the country often also depends on the infrastructure. According to figures for 2019 published by the World Bank, just over half of the world's population lives in cities or urban areas. At 77.2% (EU: 74.7%), Europe is in the top half. Interestingly enough: after city-states such as Singapore and Kuwait, where without exception everyone lives in an urban environment, a number of European countries are at the top of the table. Belgium, Malta, the Netherlands and Luxembourg have an urbanisation rate of over 90%. At 77.4%, Germany is average for Europe. According to a Eurostat survey, the biggest cities in the EU are Paris, Madrid and Berlin.
Owning or renting?
How many people own their home? How many rent? These figures reveal fascinating differences in Europe. Whilst home ownership runs at over 90% in Romania, Hungary, Slovakia and Lithuania, the DACH region (German-speaking Europe) has the lowest percentages: Austria, Germany and Switzerland have the smallest share of home owners. Naturally, the percentage of renters is particularly high where the home ownership rate is low, i.e. in Austria, Germany and Switzerland.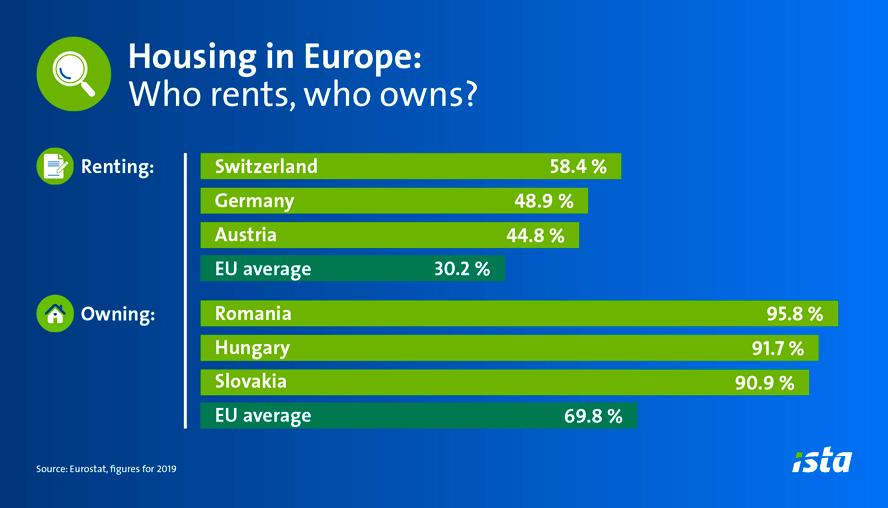 House or apartment?
Quite apart from the question of home ownership or renting, European countries differ greatly in the type of housing in which their populations live. For example, in Ireland nine out of ten people live in a house; apartments tend to be the exception - even in urban areas. At well over 60%, Latvia has the highest share of apartment dwellers, closely followed by Spain. In cities, apartments are generally the typical type of dwelling: here the Greek cities take first place with the share of apartments topping 88.3%. Germany is in the midfield for all these figures: 42.3% live in a house, 56.4% in an apartment. And there are great variations in urban areas where 77.6% live in an apartment.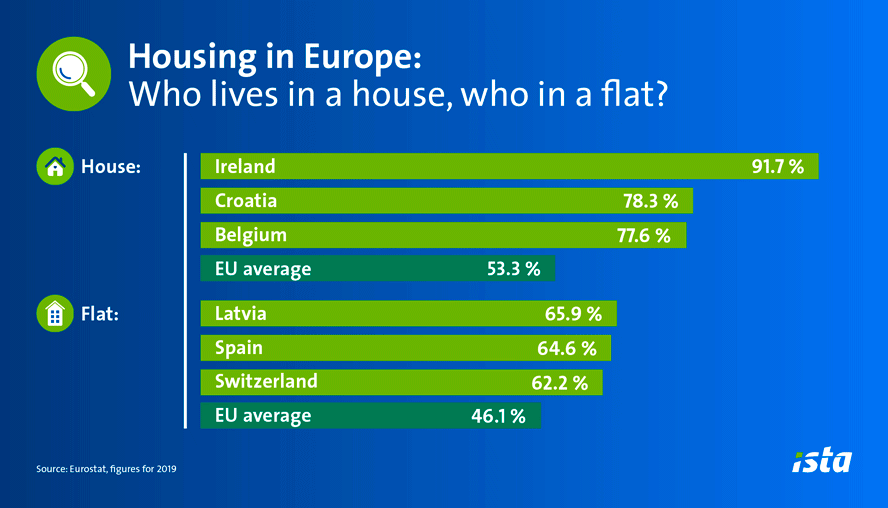 A lot or little space?
How big is the actual apartment or house in a European comparison? According to the Eurostat figures for 2019, the European countries show a huge spread: for example, in Malta the number of rooms per person is double the number in Romania, i.e. 2.2 vs. 1.1 rooms. In Germany, the average number of rooms per person is 1.8.
By contrast, the size of households does not vary so much in the European countries: with an average of 2.3 people per household, the Scandinavian countries (Sweden, Denmark and Finland) are at the bottom end of the scale (2.0 people), together with Germany. At the top end are Slovakia and Poland with 2.9 and 2.8 people per household.
High or low CO2 emissions?
The housing sector causes a large proportion of CO2 emissions in many European countries, largely as a result of heating and hot water production. At the same time, the EU has set itself ambitious climate targets: the member states want to reduce CO2 emissions by 55% by 2030. And the EU is to be climate-neutral by 2050.
Which EU countries are already well on track in the housing sector today? A look at the Eurostat figures for 2018 shows: Heating is, on average, responsible for over 700 kilos of CO2 per capita. So there is still plenty of room for improvement! By the way, some countries are already trying to control emissions by putting a price on CO2. Click here for an overview.