ista's digital power tool MinuteView helps industrial and commercial customers to cut their energy consumption and improve their carbon footprint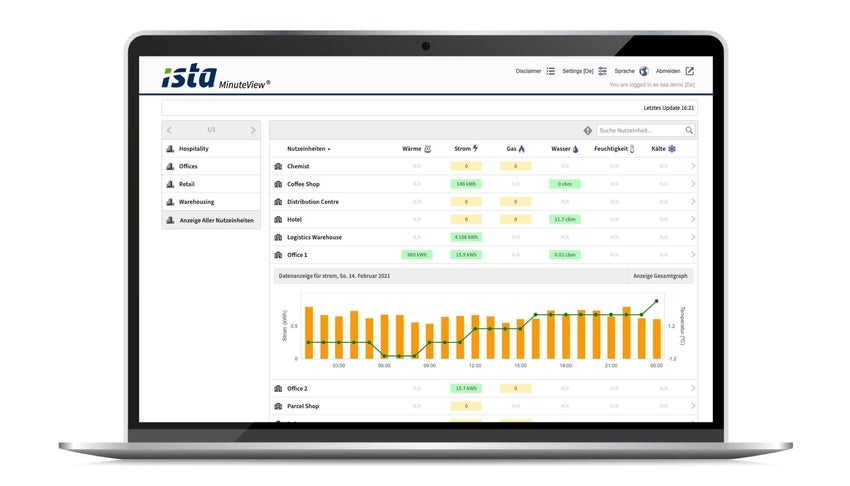 Essen, 18.03.2021. With its digital power tool MinuteView, the energy service provider ista is expanding its offering for industrial and commercial customers. Using the all-in-one energy management solution means that up to 15% of the energy costs of a company or a site can be saved, therefore considerably improving the carbon footprint.
Nowadays, reducing energy costs and CO2 emissions is one of the major concerns for companies and is becoming more relevant by the day," says Oliver Schlodder, Managing Director & Head of New Business at ista Germany. "We are seeing strong demand from our industrial and commercial customers for digital solutions that help to lower their energy costs, satisfy climate protection requirements and improve their carbon footprint. With MinuteView we are expanding our offering for this target group, from the medium-sized chain store to the large corporation with energy-intensive facilities."
MinuteView is a digital power tool for efficient energy management in commercial properties. Until now, this solution has been mainly used in the British market but this ista product is now also available in Germany in light of the strong demand from our customers. At the heart of MinuteView are intelligent monitoring features for electricity, gas, water and heat. Thanks to comprehensive, hardware-independent data collection, energy consumption can be easily tracked and comparisons made between individual sensors, buildings, locations or countries. Moreover, MinuteView records and balances CO2 emissions in accordance with DIN EN ISO 14064; savings potential can therefore be easily identified, benchmark analyses created and audits optimally prepared. MinuteView also has an alarm function, providing information on excessive consumption and technical problems by e-mail or SMS. The user can set individualised cost and consumption thresholds. On request, the tool is available as a white-label version. The interface can be adapted to suit the user's corporate design and existing hardware and interfaces can also be integrated into MinuteView.
"With MinuteView, we want to offer our customers a flexible solution to achieve greater transparency and energy efficiency," says Oliver Schlodder. "Our experience from the British market shows that companies that use MinuteView can reduce the energy consumption of their properties by up to 15%. Given that industry and commerce are responsible for more than a quarter of the CO2-equivalent emissions in Germany, this solution offers tremendous potential for greater energy efficiency and climate protection, not only for companies themselves but also for society as a whole."
Press contact: