Our Commitment to Climate Neutrality
Environment
Only those who are aware of their responsibility can accept it. We are convinced of this. We make it easy to switch to climate-friendly behaviour – by making consumption transparent and offering smart technologies and services. In this way, we encourage our customers and their tenants to conserve resources and protect the environment. We also demand the same of ourselves. That is why we promote environmental and climate protection in all areas of the company, cut electricity consumption and CO2 emissions at our branches and motivate our employees to save water, electricity and paper.
---
Our Goals
We have our sights firmly set on a sustainable future
Every single contribution to environmental and climate protection counts. Therefore, we at ista have set ourselves clear targets to conserve resources, use energy efficiently and so improve sustainability in our company.
We will be CO2-free (net zero) by 2030 – by acting in a resource-saving manner in all areas of our business (scope 1–2 and selected scope 3 categories).
By 2030 at the latest we will only use electricity from renewable energies.

Environmental protection at our sites
We take responsibility – for protecting the environment and conserving resources at our sites
We are committed to a sustainable planet by saving energy and conserving resources in our business activities.
At our sites, we take many different approaches to saving energy:
For example, we replace bulbs with energy-efficient alternatives or install motion sensors for the lighting.

Where we can no longer reduce electricity consumption, we opt for electricity from sustainable sources. By the beginning of 2023, we will be purchasing electricity from renewable energy at 95% of all German locations.

We use energy-efficient buildings and ensure the energy-efficient refurbishment of the properties, for example by improving the insulation on the buildings at various sites and installing new lighting systems.

We digitalise as many processes as possible. To this end, we have increased electronic document management at our locations so as to avoid print-outs.

We act on ideas from our employees for greater environmental and resource protection in the company. For example, at the suggestion of its employees, ista Belgium launched the "ista Green" initiative to make daily office life more sustainable. Among other things, they bought reusable drinking bottles and replaced plastic bags and cleaning agents with environmentally friendly alternatives.

Environmetally friendly mobility
We keep on the go, but sustainably

– for climate friendly mobility
We would like to make our employees' mobility as sustainable as possible:
We are steadily increasing the number of electric vehicles in our company fleet: we have already replaced part of our fleet with electric and hybrid vehicles. Their share will continue to grow and our aim is to switch our fleet entirely to electric cars in the next ten years

.

We offer many alternatives to conventional means of transport: we promote environmentally friendly mobility – for example with company tickets or car-pools.

We use video conferences, online meetings, digital workshops etc. to avoid travel, wherever possible, and largely replace it by

digital alternatives to save emissions.

Energy Management
We manage our sustainabilty

–

for intelligent management of environmental and climate protection
At international level it is the Sustainability Delegates who manage the activities of their country's branches. In Germany, the cross-location ista energy team coordinates our internal energy efficiency measures and continues to develop our energy management activities. We devise many ways to help our employees take action within the company to protect the environment. We organise join-in campaigns and activities to raise awareness of sustainability and motivate our employees to use water and electricity carefully and avoid waste. We also use certified environmental management systems to manage and continuously improve our efforts to protect the environment. They are certified to ISO 14001 at our branches in Spain, the UK, Romania and Turkey. The ista branches in Germany have also had an energy management system to ISO 50001 since 2016.
---

Goals, Values, Principles
We have set ourselves a clear goal for each field of action in our sustainability strategy which are guided by internationally recognised external standards.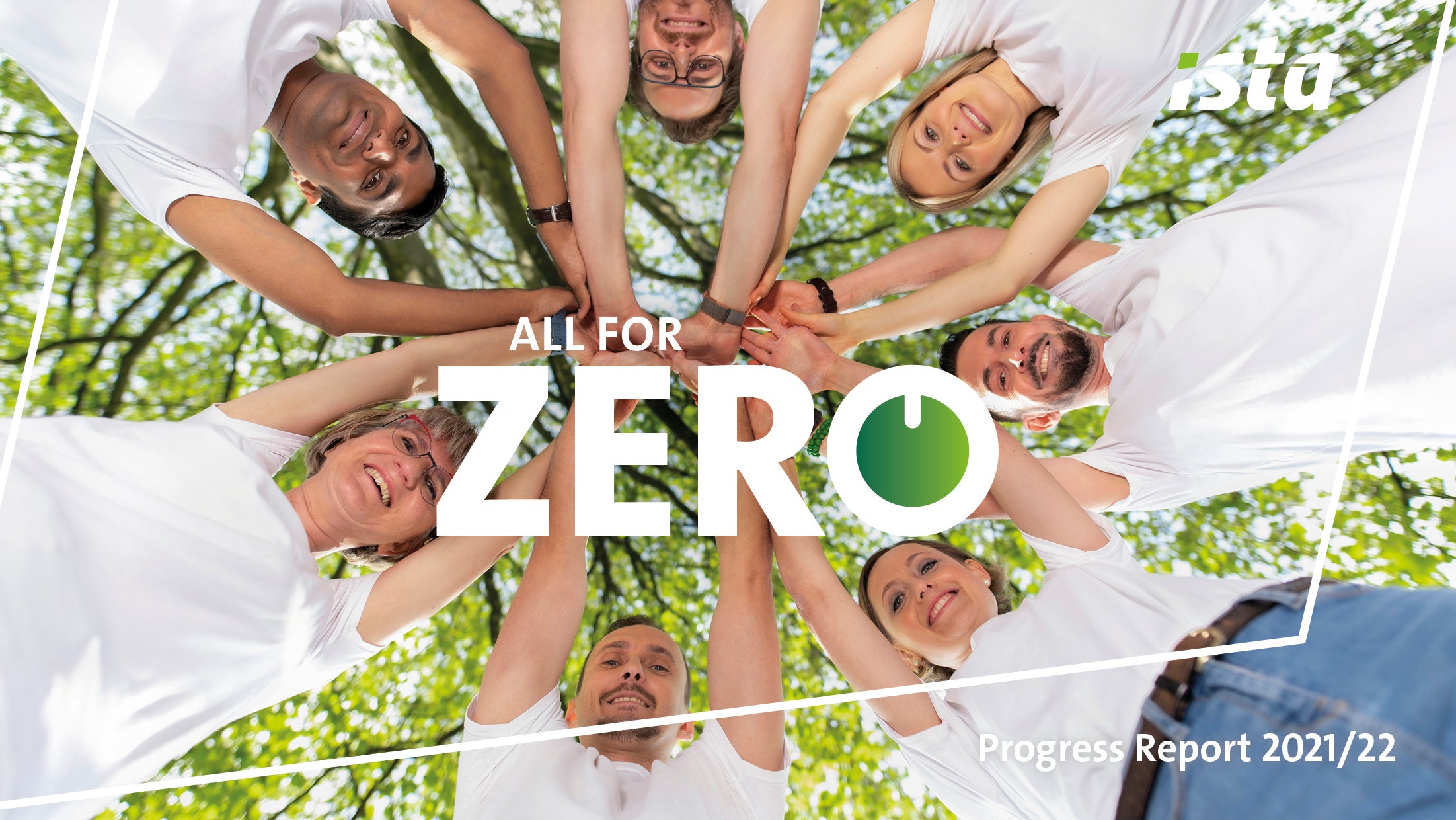 ista Progress Report
Find more information about our sustainable activities in our progress report 2021/22.

Climate Protection at the Heart of Corporate Strategy
ista already operates CO2-neutral and intends to become carbon-free (net zero) by 2030.
---