Sustainability
One of the greatest challenges of our time is the responsible and careful use of natural resources such as energy and water. As one of the world's leading companies providing energy services for greater energy efficiency in buildings, we help our customers sustainably save energy, CO2 and costs in apartment buildings. All around the world, ista products and services make individual energy and water consumption in buildings transparent. As a result, individual consumption behaviour becomes tangible and understandable. And therefore controllable.
Sustainable strategy at its core
Corporate Social Responsibility does not take place on the fringes but at the heart of ista. Our products and services are sustainable to the very core because they help conserve resources. Therefore, the focus of our entire company is very much on sustainability and responsibility.
We continually develop our products and services. For the more energy and costs we save through our work, the more successful we are on the market.
At the same time, we also measure our consumption in our own working environment and try to continually optimise our own resource and materials management. And we motivate our employees to take responsibility for society and the environment, also outside ista.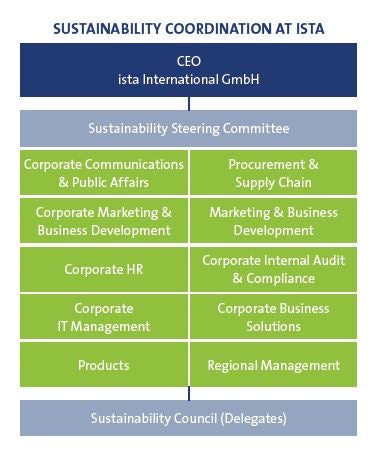 Sustainability Coordination
The central body in the field of Corporate Social Responsibility is our Sustainability Steering Committee. At ista, the subject of sustainability is the direct responsibility of the Management Board. Two bodies set the strategic guidelines and are in charge of operational implementation.
The Sustainability Steering Committee sets the focus and direction of our sustainability engagement. To do this, the heads of strategically relevant departments at the Essen head office, who make up the Sustainability Steering Committee, meet at least twice a year.
The Sustainability Council, which consists of delegates from all national organisations, manages and implements sustainability measures. The council also shares ideas from the countries with the Steering Committee. This way we ensure not only that strategy topics are operationally implemented in the countries but also that we get input from the countries for the further development of content.
Compliance is indispensable
It is a fundamental part of ista's culture to interact with the environment and society, with colleagues, customers and other stakeholders in a respectful and careful manner. Transparency is part of our company's DNA. Our cooperation with customers, partners and other stakeholders is characterised by openness, respect and fairness.
The following codes and structures provide us with a clear guide:
Membership of the UN Global Compact
Sustainability Steering Committee and Sustainability Council
Engagement as a guiding principle
ista schools in Energy Efficiency
With the project "ista schools in energy efficiency", ista is making a contribution towards greater environmental and climate protection.

Schools are often a "black box" for energy consumption. An awareness of energy efficient action is particularly important in view of the many young users and lots of movement within the buildings. Saving energy here therefore has environmental education, social and financial dimensions.

We started with five selected schools in Essen, Germany since the end of 2016, equipping them with the latest metering technology, visualising and making their consumption data accessible to the pupils. We are also developing a teaching concept together with the teachers and climate protection managers from the city of Essen, Germany. The aim is for pupils to learn in various teaching units how energy consumption in the school can be improved through simple action. ista employees can actively participate in this project as volunteers, helping decide on lesson content and teaching it in workshops or school projects.

At the end of 2017, we started a cooperation project with the non-profit association, BildungsCent. Together, we will be equipping 100 secondary schools with so-called "climate boxes" throughout Germany. Using the climate box, pupils can become active themselves in climate protection – for example, by detecting energy weak points in the school building using various metering devices or by implementing their own climate protection concepts for their school with the aid of innovative learning materials.

More information on INSIDEista.
International Corporate Volunteering Programme
Every ista employee is an ambassador for greater sustainability and promotes the philosophy of Corporate Social Responsibility. Together and with great passion, our employees act in an environmentally friendly way and engage on behalf of society. ista promotes this with our international Corporate Volunteering Programme "grow". grow stands for 'great respect for our world'.
Environmental management
In order to constantly improve our CO2 balance, ista regularly revises the guidelines on business trips and company cars, offers fuel-saving training courses at its branches and already uses electric vehicles in some countries. We are constantly integrating other measures to reduce paper and energy consumption worldwide in our everyday working lives.

Central recording of the important key figures regarding energy, emissions, water and materials gives us internal transparency and targeted management. And we are continually optimising the process for collecting key data for our sustainability report.
Management certifications are an integral part of our quality aspiration in the environmental field. Accordingly, we have had our environmental management certified to ISO 14001 in Spain, England and Turkey. At the same time, we comply with the statutory requirements of the European Energy Efficiency Directive with other certifications in some countries: in 2015 we conducted an energy audit in France to DIN EN 16247-1, which is specially geared to the optimisation of energy efficiency. This is also currently taking place in Poland.
In Germany, we set up an energy management system to ISO 50001 in 2016 and acquired the corresponding certification. In doing so, we commit to sustainably reducing our energy consumption and increasing our energy efficiency in a continuous improvement process. Specifically, we are aiming for a continual improvement of energy efficiency by an average of 1.3 % per annum for ista Germany and for ista International in Germany.

More information about sustainability at ista you will find on our online magazine INSIDEista.
Promoting Diversity
ista guarantees that employees can perform their roles in a non-discriminatory environment, irrespective of their gender, age, religion, sexual identity, origin or disability, and have equal opportunities.

It is important to us that all positions are filled with women and men equally. This also means that women receive the same remuneration as their male colleagues for doing the same work.
Creating trust by honest reporting
Transparency is part of our company's DNA. As one of the world's leading energy service providers, it is therefore a matter of routine for us to report in an open and transparent way on our total engagement for greater energy efficiency in buildings, sustainability and responsibility.
Our seventh Sustainability Report appeared in 2017. Here we report on progress in the field of sustainability based on the internationally recognised G4.0 Guidelines of the Global Reporting Initiative (GRI). The report is regarded as "Communication on Progress" as part of ista's membership of the Global Compact.