News & Events
Here you will find the latest news from ista Energy UK and the events that we attend.
Five tips for saving energy and water
As energy prices continue to rise, the battle is on for households across the UK to find ways of lowering energy and water consumption to reduce the cost of their bills.
Whether you own your home or rent, there are plenty of things you can do every day to become more energy efficient. Here are five good habits to get into…
1. Heating
Keep your thermostat to a steady temperature, say 20degC, and resist the urge to turn up the heat for short periods. Lower the temperature overnight or when you are away from home. Modern central heating systems come with a programmable thermostat which will automatically turn the thermostat down at night. By turning down your thermostat one degree, you could save up to 10 percent on your heating bill.
2. Cooking
Your kitchen consumes a lot of energy, but a few simple steps can make a big difference. Use a microwave, toaster or slow-cooker to cook small meals rather than the main oven. When cooking a larger meal, don't keep opening the oven door as this loses heat and means the food will take longer to cook.
Your fridge or freezer runs all day, every day, so replace old appliances with new energy efficient models which will be less expensive to run. Keep your freezer stocked up as the food will retain cold temperatures, meaning a full freezer is more efficient than an empty one.
3. Cleaning
Only use the dishwasher when it is full, and load the dishwasher properly to ensure maximum efficiency. Before loading, scrape dishes rather than pre-rinsing with hot water.
Run washing machines with a full load, matching the water level to the size of the load, and only use a minimum amount of detergent. Only use hot water to wash very dirty clothes or whites, everyday wear can be cleaned using warm water.
4. LED lights
Today's LED lights consume around £80 worth of electricity over a 20-year lifespan, while conventional bulbs use in excess of £120 over the same period, and must be replaced every 5,000 hours. LEDs require much less electricity to power than both traditional incandescent and halogen light bulbs, and even energy efficient light bulbs (CFLs).
For example, a 60W halogen light bulb can be replaced with a 9W LED — that's an 85% saving in electricity. The LED bulb will also last for more than 20,000 hours, as opposed to 2,000 hours for the halogen – 10 times longer.
5. Bathing
Save water every time you shower, shave or clean your teeth. Have short showers lasting no longer than five minutes, as baths can use up to 15 more gallons of water. Save even more water by installing a low-flow showerhead. Turn off the water while brushing your teeth, and only use a small amount of water to rinse your razor while shaving.

Alternative ways to cool a building
Looking to keep your building cool without blowing your energy budget on air conditioning? There are many systems and simple techniques which can help...
Passive cooling
This is a non-mechanical way of cooling homes by controlling the heat entering and leaving the building, reducing the reliance on electrically powered fans and air conditioning. There are two main methods: preventative and modulation.
Preventative techniques can protect the building against heat, by taking into account the local environment and exposure to sun and wind. Shade windows from the sun by planting trees outside, fitting reflective film on windows or installing awnings. Consider the building's orientation and manage the interior to reduce overheating, while promoting ventilation and airflow through multi-storey buildings.
Other considerations include using energy-efficient lighting and electronic equipment which emit less heat.
Modulation, or heat dissipation, allows a building to store heat and then release it into the environment using natural ventilation. Night ventilation involves keeping the building closed during daylight hours before being opened at night when the air is cooler.
Other techniques include cooling air by using an internal water feature such as a pool or fountain. Some buildings even pump up ground water to be used in climate-control systems, this is a hybrid cooling system as it does involve mechanical pumps.
Earth coupling involves using the soil to absorb heat from the building through conduction. This can be by direct contact via a wall buffer or by buried tubes which carry the heat from the building to the soil.
Here are some passive cooling techniques to use at home…
Create a breeze
If there's a slight breeze outside, open a window on the side facing the wind and then another on the opposite side of your home. For the best results, use a smaller window facing the breeze as this will increase the airspeed through the house. You can then open and close doors to force air through rooms which you want to cool. If there isn't much wind, you can place an electric fan under the open window to help push a breeze through your home. This method works best on single-storey buildings.
Thermal chimney
To cool a building with multiple floors, open the lowest windows on the coolest side of the building. Then open the highest windows in the building on the opposite side. In theory, the hot air will rise and exit the building from the top windows, creating a vacuum pulling cool air from downstairs. The cooler air should absorb warmth as it flows through the building, thus continuing the thermal cycle.
Close blinds of shades
Research has shown that up to 30 percent of unwanted heat comes from your windows, so closing your blinds can save you up to 7 percent on heating bills and lower indoor temperatures. This stops your home from becoming a greenhouse, especially if you have south-facing windows.
Change your bulbs
Traditional incandescent bulbs waste around 90 percent of their energy in heat, so using energy-efficient CFL bulbs will cool your home while lowering your electricity bill.
The main advantage of employing passive cooling methods is lower energy usage and costs. Every year, air conditioning across the globe accounts for more than double the total energy consumption of the African continent. Therefore, air conditioning is a major contributor to global warming, both through fossil fuels and the greenhouse gases emitted from refrigerants. Passive cooling is the sustainable solution…
Wishing Ian Booth a happy retirement
Everyone here at ista would like to wish one of the leading figures of the energy industry, Ian Booth, a very happy and well deserved retirement.
As the CEO with Aberdeen Heat & Power, Ian has played a key role in the industry and helped the company win many high-profile awards, including the 2015 VIBES Award for Environmental Product or Service.
Since graduating from the Robert Gordon Institute of Technology in 1974 with a degree in engineering, Ian has become an expert in district heating and has been a regular speaker at renewable and low carbon industry events.
Aberdeen Heat & Power Ltd was set up by Aberdeen City Council in 2002 to develop and operate district heating and CHP (Combined Heat & Power) schemes. The scheme now supplies around 2,350 flats in 33 multi-storey blocks and 15 public buildings. Carbon emissions from these buildings have reduced by 45% and typical fuel costs to tenants have been reduced by up to 50% over the previous electric heating systems.
During his final week in the business, ista had the chance to speak to Ian about his long and successful career…
How did you get into the energy business?
My history is in the paper industry where I spent 30 years in both project and general management of a large papermill. We recycled waste paper to make cardboard which was then used to cover plasterboard.
The papermill closed in 2005, and I then became involved in a project to remove all the plant machinery which had been bought by a company in the Ukraine. So I was back and forward to Donetsk in eastern Ukraine for three or so years. It was a big project, but it was a really interesting challenge.
That finished in 2009 so I was out of a job for a while, and then I saw the role for a general manager with Aberdeen Heat & Power, and I have been here ever since.
What attracted you to district heating?
The engineering side attracted me to the job, to be honest I had never heard of district heating and had no idea we had it in Aberdeen.
When I started there were only two members of staff, we only have four now so we run a lean business model and contract out all the work. This means we have to be a jack of all trades, dealing with customers, tenants, councils and the Scottish Government.
What have you most enjoyed about your role?
I feel extremely privileged to have been part of this company for the past nine years, we've expanded tremendously and tripled our turnover. We have a pretty unique operating model in that we are not-for-profit so we don't pay any dividends, we invest everything back into the business.
Our aim has been to alleviate fuel poverty and to reduce the carbon footprint for the city of Aberdeen. You get a sense of satisfaction of being able to fulfil a public service role and achieving something for the people who are struggling to cope.
On the engineering side, I have always enjoyed completing the projects, from getting involved with the designers through to installation. Every project is unique and requires a different approach.
The biggest challenge has always been to get to the point when projects are funded and we can finally get them off the ground. It's about getting all the ducks in a row to make things happen.
How has the energy business changed over the past 10 years?
The biggest change is that now there is a national interest in district heating. From nothing there is now considerable interest and policy decisions are being made about it at the highest level.
District heating was seen as a dark art, even at government level, and that has changed dramatically. I like to think I had a wee part to play in raising the profile of the industry.
Where do you see the energy industry in 10 years' time?
For Aberdeen there are new challenges on the horizon over the next 10 to 15 years. There are plans for an energy waste plant which will have a huge output of waste heat and that will be dissipated across the local area and city centre.
Our heat networks should grow substantially and a long-term ambition is to connect our four energy centres to become a city-wide ring. I still see that as being achievable, but it depends on funding and the will to make it happen.
What will you miss the most?
Obviously I will miss all the people I have been working with and the banter. I'll also miss the routine of the job, the interesting work and the industry as a whole.
What do you enjoy doing when you're not working?
I used to be heavily involved in the Scouts and I'm still involved with a small singing group. When I retire, me and my wife are heading off on a cruise and then it will be our 40th wedding anniversary and it's also my 65th birthday. At the end of the year we will also be spending three months in New Zealand to see my son. That will take us well into next year, so I've got plenty to look forward to.
Here at ista we would like to thank Ian for his tireless efforts in reducing the energy costs for the people of Aberdeen, and we wish him all the very best in his retirement.
What is a heat tariff?
One of the most common complaints from energy customers is that they don't understand their bills. Here at ista, fairness and transparency are at the heart of everything we do, which is why we have compiled this brief guide to heat tariffs.
What are tariffs?
Dictionaries define a tariff as a list of prices. In energy terms, the tariff is the rate at which your energy or heating is charged. For example, when you fill up your car with fuel, the price you pay at the pump is the tariff. Heat tariffs can be domestic or commercial and fixed or variable.
There are three main reasons for tariffs:
To cover the cost of providing energy/heating
To provide a fair and transparent pricing structure
To educate consumers so they can make informed choices about their heat/energy usage.
Fair tariffs mean that people who use more pay more, and everyone contributes towards the fixed costs of providing energy, regardless of usage.
Fixed-rate tariffs
These tariffs will guarantee the price of energy for a set period and are a good way of controlling your budget. Fixed rates are also usually lower than standard variable tariffs.
The fixed rate only applies to the unit price of energy, not the amount shown on your bill. If you use more energy, your bill will rise. Many consumers prefer fixed-rate tariffs as they offer protection from energy price rises.
At the end of your fixed-rate period, you will either need to find another fixed-rate deal or your provider will switch you over to the standard variable tariff (see below).
Variable tariff
As the name suggests, your energy price will go up or down according to the market. Variable tariffs can be cheap when energy prices fall, but you will pay more when they rise.
Suppliers have a standard variable tariff, which you will be charged when your fixed-rate deal expires. Research has proved that variable rates are usually more expensive than fixed-rate tariffs.
Capped tariffs
This is when the unit price of energy is capped at a certain point – and it won't go over this agreed amount. Prices can be capped per unit of energy, or against another tariff (for example, a tariff might be capped to be no more than 10% over the standard variable tariff).
Like variable tariffs, prices can go up or down but won't exceed the agreed limit. These tariffs do not cap your total bill, just the unit price of energy/heat you use.
District heating
These are community energy schemes usually for apartment buildings, housing associations or commercial developments.
The method of calculating the cost per user varies from scheme to scheme. The final bill for each user will usually include metering based on price per energy unit, a maintenance charge based on the size of the home/office and a further fixed charge to cover management and administration costs.
Please note that fixed charges may be based on property size or type, or they could be simply shared equally between the number of properties.
The heat tariff is at the heart of the relationship between a consumer and the energy supplier or provider. To be successful, tariffs need to cover the cost of providing energy to the consumer, while providing fairness and transparency.
Manor Walk Aberdeen
Energy billing solution for social housing
When Aberdeen City Council needed to deliver an innovative and energy efficient social housing scheme, ista was on hand to help.
Project
ista successfully won the tender to supply Aberdeen Heat and Power with an energy billing solution on a new social housing development owned by Aberdeen City Council. The many complexities of the project included the properties being split across two sites: Manor Walk and Smithfield.
The £13 million Smithfield development features 99 properties, designed by Lippe Architects and built by CHAP Construction. It comprises 42 three and four-bedroom, semi-detached properties and 57 one and two-bedroom apartments.
Manor Walk is a £13.5 million council housing development built by Bancon Construction on former playing fields in Aberdeen's Middlefield area. It contains 80 new council properties, a mixture of flats and houses.
Both sites will be joined up to Aberdeen City Council's Combined Heat and Power scheme (CHP) which recycles energy from waste, providing low cost energy options for tenants and takes almost 50% off their fuel bills. The CHP scheme has proven immensely successful in tackling fuel poverty in Aberdeen and reducing carbon emissions.
The developments feed into wider ambitious plans to build thousands of new properties with mid-market rent and low-cost ownership opportunities in the next five years through a public-private partnership – the first of its kind in Scotland.
In association with housing association Places for People and delivered by Shaping Aberdeen Housing LLP, the city council is aiming to offer homes which are of a high quality, sustainable and energy efficient design, for residents who are struggling to meet private rents.
Described as "next generation social housing", the city council wanted the modern homes to be energy efficient with a fair and transparent billing system for the tenants.
Solution
Having assessed the project and its unique set of challenges, ista opted to supply its innovative SmartPay metering solution across both sites.
SmartPay is a wall mounted in-home display, wirelessly connected to the control box to allow tenants to see their energy account balance at any time. The main benefit for low-income tenants is that they are able to get an accurate and 'live' energy reading, which allows them to manage their energy usage and budget accordingly.
The metering installation programme is still in the process of being rolled out as construction work at both development sites is still in progress. However, the first phase is complete and tenants have already moved in and are using the SmartPay meters.
Outcome
The project has produced plenty of real world benefits for both tenants and landlords. By using the SmartPay meters, the tenants have learnt more about their own energy usage which has helped them make better decisions around how they spend their energy, helping their family finances.
The landlord, the city council, has also seen a positive outcome as the accurate and real-time billing is helping to control potential debt problems among tenants. The hi-tech and innovative metering solution is also in keeping with the goal of providing the next generation of social housing, while also generating a positive environmental message.
In conclusion, the Aberdeen project reinforces ista's unique offering of providing smart and innovative solutions aimed at reducing energy consumption, while providing fair and transparent billing by making it easy for residents to control their energy usage through cloud-based technology.
Helping Children in Ghana
ista has supported an employee's mercy mission to provide children in central Ghana with sports clothing and equipment.
Sales manager York Dennis, whose family originated in the West African country, travelled with his friend Mike Smart on February 14 for the goodwill trip which was in aid of Sport Relief. York spent £700 of his own money on the trip and had collected plenty of second-hand sportswear, while Mike generously donated boxes of brand new items for the children.
Upon their arrival in the capital Accra, York first had to arrange suitable transportation for his charitable mission. Due to the poor state of the roads, it took more than two hours for York to reach his mother's home town, Agona Nyakrom, to supply youngsters at the local Anglican church with some much needed football and netball equipment.
Before being introduced to the school children, York had the opportunity to speak to the headmaster, teaching staff and the local priest to explain the purpose on his visit. Understan
dably, everyone associated with the school were elated by the generosity of the gifts.
The community also heard how York had pledged to support the Yaboah family by fundraising for medical treatment to remove an abnormal lump on the face of their youngest son Emmanuel.
A qualified FA coach, York has always had a passion for football having played in London, Hertfordshire and Norfolk. When his playing days came to an end, he became involved in grassroots football with Stoke United FC where York has played an integral role in the success of the club.
"Over the years I've developed a wonderful rapport with players, instilling in them the footballing values that were passed down to me," says York, whose grandfather played for the Ghana national team.
"As well as coaching children from Under-6 to U15, I have also had the chance to coach a senior men's refugee side which consisted of a number of players from Africa and Afghanistan who had witnessed atrocities in their homeland or had been targeted as suicide bombers."
Far from being the end of the story, York intends to return to Agona Nyakrom next year to supply similar equipment to a Methodist school. If you have any unwanted football kits, moulded boots/trainers that you wish to donate, please feel free to contact York at yorkdennis@btinternet.com.
After working for Marsh, a risk management company for 15 years, ista has given York the opportunity to become a Sales Manager covering the South East, South West, West London and the Home Counties, which is an exciting new chapter for the company.
ista — now even stronger to support you in an ever-changing world
For more than 100 years ista has been at the cutting edge of monitoring, metering and consumption.
Now the business is entering an exciting new era with new owners confirmed as Hong Kong based CKI. The family-run Asian firm has been investing in Europe for many years and was attracted to ista's strategic and sustainable goals to deliver fair and transparent energy for all.
Thomas Zinnöcker, ista's CEO, described the investment as a "real stroke of luck for ista". He says: "CKI has bought interests in well over 30 countries and has not sold a single one. So you see they have a very long-term plan.
"We have been recording growth for years. Our aim is to grow slightly more strongly than the market as a whole and we also want to continually expand our customer base."
Handling so much data across so many countries means ista is very strict on protocols, so our customers' data is always protected.
"Data privacy is and will always be a very precious asset to us," says Mr Zinnöcker. "We are not a data collector but help consumers to save energy. That is why our focus is on reducing CO2 emissions and not on data. It is true that homes of the future will be more digital, this leads to fundamental questions to which we as a society have to find answers. We want to make our contribution."
Ista is a true global player in the fields of metering hardware, data collection and billing platforms and is well positioned in an exciting energy marketplace.
Based in Germany, ista operates in 23 countries and manages data from 44 million devices in 13 million dwellings across the globe. We offer innovative metering hardware, data collection and billing platforms, together with a full treasury service with flexible payment solutions to fit your new build or refurbishment application.
Providing online visibility of your energy and water usage, to help drive reduction in consumption, is a key part of ista's service.
This transparent approach removes the uncertainty and worry consumers can face over quarterly bills and estimated meter readings. Which is why more and more property managers and housing providers are turning to ista's unique and innovative solutions to energy metering.
Tel: 01223 874974
Twitter: @istaEnergy
York Dennis joins ista Energy Solutions
We have pleasure announcing a further appointment, as part of the continued investment in our customer facing London Team York Dennis has joined ista as Sales Manager.
We welcome York to the ista team this week. He is looking forward to interacting with our customers both existing and new
"I come from a risk management background with 15 years experience. I dealt with underwriters, lawyers & loss adjustors amongst others ensuring fees and settlements were paid on time. I pride myself in treating customers how I would like to be treated, i.e. fairly and professionally. The skills I have acquired during my time in the risk management environment are perfectly suited to my new sales role, and I will bring honesty and integrity to my day to day role ensuring all KPIs and SLAs are met".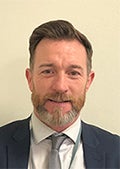 Jason Weafer joins ista Energy Solutions
We are pleased to announce that Jason Weafer joins ista Energy Solutions UK as our Sales Manager for the Midlands and Northern Regions.
"I have spent 25 years in the construction industry, initially qualifying as an Electrician before going into Sales where I have been for the last 23 years. I pride myself on building sound customer relationships, working in a team environment whilst maintaining a professional attitude at all times. I hope to bring an energy to ista and add to the success that has already been built".
Jason starts on Monday 29th January 2018.