How to plan heating systems for social housing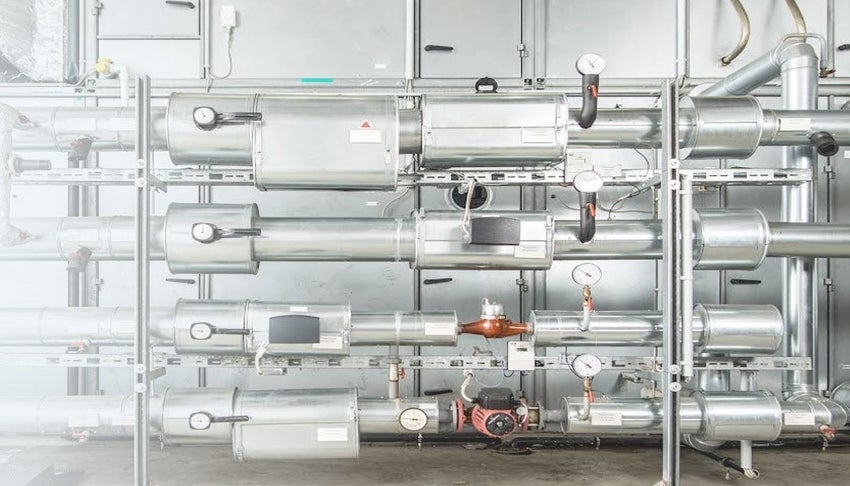 District heating is becoming a popular solution for the supply of affordable and reliable heat and hot water to social housing, but where do you start?
Fortunately, we asked our experts to provide a brief guide…
What is district heating?
District heating is where a single heat source serves more than one property, this could be an apartment block, housing estate or commercial complex. A heat interface unit (HIU) in each dwelling or building provides all of the control and functionality of a traditional boiler.
Combined heat and power (CHP) plants generate heat as a by-product of generating electricity by burning coal, oil, gas or biomass. By placing CHP plants in large building complexes or housing developments, the heat can be circulated in district heating pipes to each building or dwelling.
Another system is a heat sharing network, when a communal ground array can be accessed by each building which uses its own heat pump for heating and hot water. Buildings with excess heat can reject heat to the network, which is more efficient than venting heat as hot air.
District heating is widespread in many European countries, but is less common in the UK supplying only around 210,000 households.
What are your goals?
How will you gauge the success of your heating system? Establish key objectives with your stakeholders so that everyone understands the purpose of the project.
For example, in a domestic setting the purpose of a central heating and hot water system is to create better living conditions for the residents. You may also wish to consider issues such as reducing fuel poverty, better energy efficiency, using renewable energy and setting low or zero carbon targets.
Time to get planning
To ensure a successful district heating system and to enjoy maximum efficiencies, detailed planning is critical. The plan should not just include the pipes and boilers, but also how you intend to engage with residents and other stakeholders.
All heating schemes begin with a feasibility study, which will help to determine what system is most suitable for your project. The assessment will need to cover several key areas, including:
Review existing buildings, heating systems, usage and heat loss/insulation
Evaluate the energy needs and service levels of the residents/tenants
Devise a draft plan for the heating system and hardware
Calculate the economics of the project
Identify risks and seek ways to optimise the system and reduce heating failures.
When planning the system's hardware, consider the amount of heating required and add some flexibility so the system can cope with potential future demand and building expansion. This planning should ideally be done before the building is started as it is more complicated to retrofit systems.
The precise heat requirement for a building cannot be accurately obtained until a building is built and the system is in operation. The easiest way to evaluate the efficiency of the system is to meter the outgoing heating flow and return flow, including the temperatures. Calculating the difference will provide the amount of heat required. A similar process can be used for domestic hot water.
Setting the timetable
An achievable timetable is vital to the success of delivering the project on time and to meet the expectations of the residents and landlord. Before any work can be started, there needs to be a period of engagement with all stakeholders, particularly the residents.
The benefits of planning
Heat planning in Denmark was set down in law in 1979, at a time when most consumers used small oil-fired boilers or other forms of individual heating. Today, 63% of all Danish homes are connected to district heating networks which is a major contributor to the country's ambitious green targets.
Further reading
The Chartered Institution of Building Services Engineers (CIBSE) has issued a Code of Practice on Heat Networks. Visit https://www.cibse.org/
Ensure that your district heating system complies with the Heat Networks (Metering and Billing) Regulations. Visit https://www.gov.uk/guidance/heat-networks
How we can help
https://www.ista.com/uk/solutions/community-district-heating/