We help people make their contribution to climate protection.
With all our energy.
Taking responsibility
Only people who are aware of their responsibility can assume it.
We at ista are convinced of this. Therefore, we share our knowledge to promote awareness in society for the responsible use of energy. For this reason we pass on knowledge about energy efficiency and resource conservation to as many people as possible.
Efficiency through transparency
With our data-based products and services residents and owners of buildings are well informed about their own personal enery consumption, save energy and contribute to climate protection. In Germany alone, 3.7 million tonnes of CO2 are saved every year thanks to the annual heating cost bills from ista.
In addition, we expect that a monthly consumption update would save another 1.5 million tonnes of CO2. After all, monthly checks of consumption lead to average energy savings of 10 % as the three-year pilot project 'Saving money through clever heating' of the German Energy Agency (DENA) has demonstrated.
With us, residents in buildings save energy, costs and CO2 emissions.
Our core product, data-based heat cost allocation, helps residents of multi-family buildings to save in average 20 % of their annual heat consumption and costs. Every year some 3.7 million tonnes of CO2 emissions are avoided by our customers in Germany alone.
Our Goals & Actions
We help people make their contribution to climate protection.
This guiding principle sums up our CSR strategy. For the company ista is not only committed to ecological and social action itself but would also like to empower others to take such action. To promote sustainability in a targeted manner, we are active in five fields of action:
We help people make their contribution to climate protection.
Environment
Environmental protection & energy efficiency
Markets
Innovative services & products
Employees
Culture & working world
Partners
Coorperation & exchange of views
Society
Awareness & education
Sustainability begins with us. We promote environmental and climate protection in all areas of the company – for example by resource-conserving action.
Our Goals:
By conserving resources in all areas of the company, we will be climate-neutral by 2050.
We want to reduce our annual energy consumption in Germany by 6.5% from 2016 to the end of 2020. For the ista Group, we are striving to achieve a continuous improvement in energy efficiency of 1.3% on an annual average.
Innovation creates progress – our products and services make energy consumption transparent and help our users behave in a more climate-conscious way. So landlords and tenants can reduce their ecological footprint and save costs.
Our Goals:
We will help our customers/users reduce their CO2 emissions by 10% by 2030 (base year: 2010).
By 2027 we will equip all properties throughout Europe with remotely readable devices. We have already installed 25 million remotely readable end devices in our customers' properties worldwide and almost 400,000 more are added every month.
Our employees help people live in an energy-efficient way – as employers, we create a corporate culture that supports them in achieving this.
Our Goals:
Engagement: We want to further improve the general conditions for employee engagement and so maintain our engagement score at the very high level of 80 in the period through to 2030.
Diversity is key to us: ista guarantees that employees can perform their roles in a non-discriminatory environment. ista Deutschland GmbH has voluntarily committed to filling at least 22% of managerial positions on the first and second levels below the Management Board with women by 2022.
We tackle sustainability together – we work in close cooperation with our ista service partners and suppliers in order to continuously improve our service offering and drive sustainability forward.
Our Goal:
From 2050, we will work exclusively with sustainable and climate-neutral suppliers as partners.
Only people who are aware of their responsibility can assume it – ista shares knowledge to promote climate protection and energy awareness in society.
Our Goal:
We will create opportunities for our employees to invest at least 5,000 hours a year in promoting climate protection in society.
Corporate Governance

At ista, the subject of sustainability is the direct responsibility of the Management. Our CEO is a member of the Sustainability Core Team – together with the Sustainability Office and selected Head Office departments that deal with sustainability topics on a daily basis.

The Core Team evaluates our sustainability strategy every three months and drives current topics forward. In addition, it prepares the targets and strategies for the Sustainability Steering Committee, which, as the central steering body, meets once a year to set the focal points of our sustainability management and develop the sustainability strategy further.

The Sustainability Steering Committee is made up of all members of the Management and the senior vice presidents of strategically relevant Head Office departments. The Sustainability Council is responsible for the international anchoring of sustainability management at ista and presents ideas from the countries to the Steering Committee. It is made up of members of the national organisations, the Sustainability Delegates.

Our Sustainability Office coordinates the in-house sustainability projects and processes. It is also responsible for certification of the energy management system in Germany and collecting the key figures for the sustainability report. The Sustainability Office organises the regular exchange of information between the Sustainability Steering Committee and the Sustainability Council.

Our Global Principles of Sustainability Strategy

It is a fundamental part of ista's culture to interact with the environment and society, with colleagues, customers and other stakeholders in a respectful and careful manner. Transparency is part of our company's DNA. Our cooperation with customers, partners and other stakeholders is characterised by openness, respect and fairness.

The following codes and structures provide us with a clear guide:

Membership of the UN Global Compact
Taking action in 5 Sustainable Development Goals
Internal Sustainability Coordination
Our Results
As one of the world's leading real estate service providers, we are committed to greater energy efficiency in buildings, sustainability and social responsibility. At the same time, transparency is part of the DNA of our company. Therefore a matter of routine for us to report in an open and transparent way on our total engagement in the area of Corporate Social Responsibility.
Please find our highlight key figures from the CSR Report 2018 here: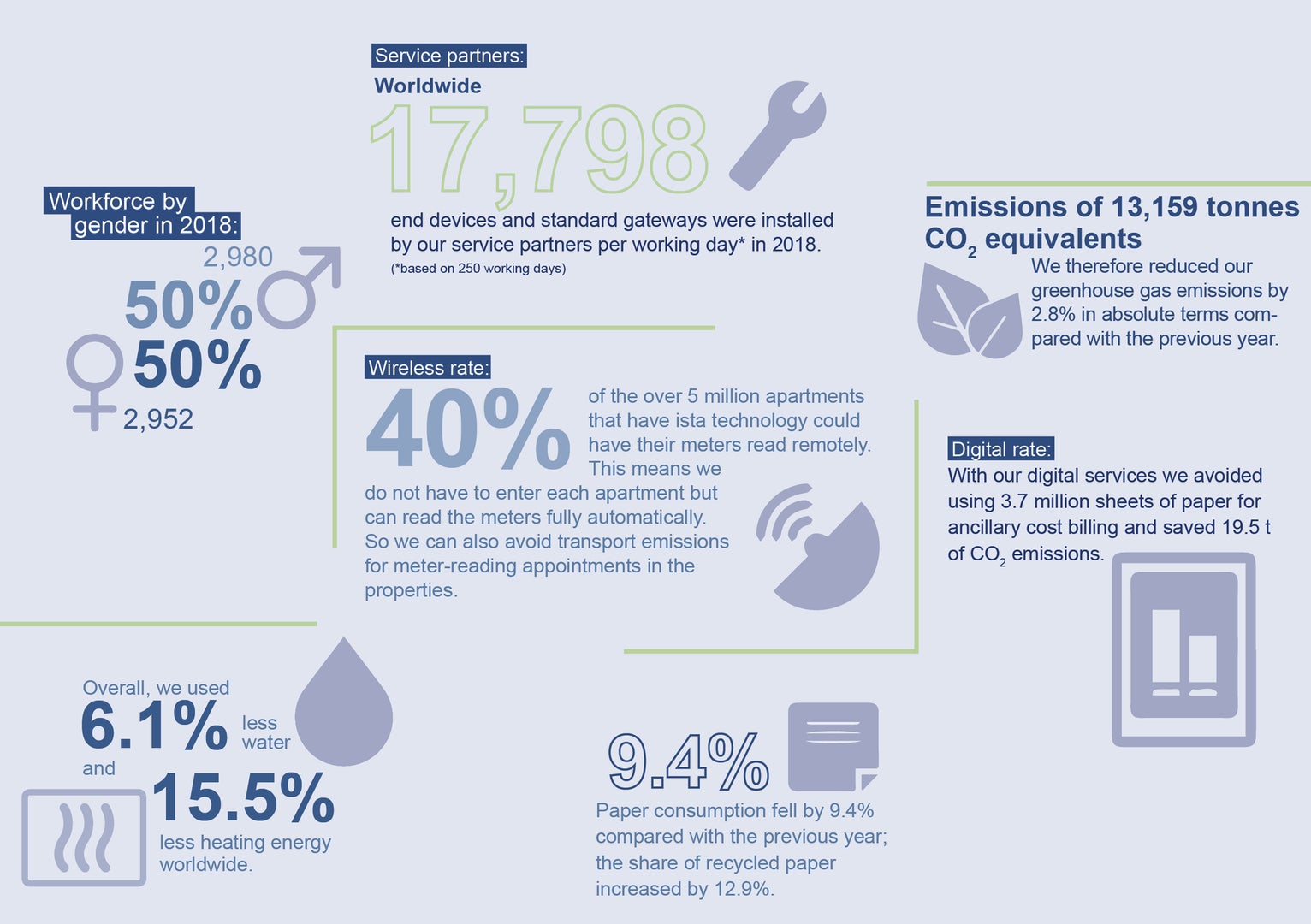 Progress Report and CSR-Reporting
Our ninth Sustainability Report appeared in 2019. Here we report on progress in the field of sustainability based on the "Communication on Progress" as part of ista's membership of the Global Compact.
Sustainability Report 2017

The Sustainability Report 2017 is ista's eighth sustainabilty report. It also represents the progress report for the Global Compact of the United Nations. In addition, we are reporting the information in our Sustainability Report for the second time in accordance with the German Sustainability Code.

Sustainability Report 2016

The Sustainability Report 2016 is ista's seventh sustainabilty report. It also represents the progress report for the Global Compact of the United Nations. In addition, we are reporting the information in our Sustainability Report for the first time in accordance with the German Sustainability Code.

Sustainability Report 2015

In the Sustainability Report 2015, we inform our stakeholders on the Corporate Website about progress made with our strategy, our objectives and the implementation of action in the 2015 reporting year.
Our Policies
ista UK is an energy consultancy company based at The Officers' Mess, Duxford with 48 office staff, 4 whom are based at a second site at Solopark and 8 staff that work remotely. ista is a multinational company that work across a number of countries and sectors. ista UK offer a range of services to companies and social landlords including: Utility Purchasing, Utility Management Service, Smart metering and Data Collection, New Utility Infrastructure, Energy Management, Retrospective Audits, CRC and RHI Support, ESOS and Heat Billing.
The nature of ista's activities means that we have the opportunity to improve and enhance the environment in which we live and work. We regard quality and environmental performance as an integral part of our business and are therefore committed to maintaining high standards in every aspect of our activities. In order to achieve this, we maintain systems compliant with ISO 9001 and ISO 14001. The Scope of our integrated management system includes all operations at both our sites, including Utility Purchasing, Utility and Energy Management Services, Smart Metering, Data Collection, New Utility Infrastructure, Auditing, Reporting and Support Services.
Quality Policy

ista is committed to;

Develop, implement and the continually improve the effectiveness of our quality performance and underpinning management systems;

Ensure that Quality Objectives are established and subject to annual senior management review with targets monitored to ensure progress;

Ensure that stakeholder needs and expectations are determined and fulfilled with the aim of achieving high levels of satisfaction;

Communicate throughout the organisation the importance of meeting customer / partner needs and legal requirements;

Ensure the availability of resources necessary to the implementation and continual improvement of the system;

Compliance with all legislation and all other applicable requirements applicable to the activities and services we deliver;

Maintain a strict and professional approach to our client's information ensuring confidentiality and;

Train and develop all employees to ensure that we work holistically towards these aims and share in the commitment to manage client's needs and expectations in all of our activities and operations;

Environmental Policy

ista is committed to;

Operate in compliance with all relevant environmental legislation, requirements of interested parties and other requirements to which we subscribe;

Prevent pollution as a result of our activities by identifying significant risks and implementing adequate control measures accordingly;

Continually improve our environmental performance by establishing a programme of objectives and targets;

Identify, monitor and measure our environmental aspects and impacts to understand how our activities and services interact with the environment;

Identify and provide environmental training for our staff in relation to specific job roles;

Involve people from across our organisation to ensure that continual improvement of environmental performance is achieved;

Assisting our customers in reduction of their environmental impact;

Sustainability Policy

ista commit to:

Enhance the local and regional economy by employing local people,

Further enhance the local economy by forming local partnerships and purchasing locally wherever possible,

Seek to prevent, reduce or offset our significant effects on the environment and local communities by the on-going maintenance of our ISO14001 and ISO9001 compliant Management System,

Provide good employment conditions and benefits,

Provide equal opportunities, our policy is included within our staff handbook – Appendix 1.

Provide a flexible and diverse working environment,

Provide a safe and healthy work environment via the on-going maintenance of our Health and Safety system.
Ultimately the Managing Directors are accountable for the implementation of this policy, who via Managers ensures it is adhered to by all persons working for or on behalf of ista and is available to all stakeholders and the public. It will be regularly reviewed by the Management Review Team and revisions made as and when necessary considering any legislative or organisational requirements.
Alex Philbrook & David Lewis, Managing Directors