Heat Cost Allocation
Learn more about Heat Cost Allocation.
Why is metering important for Communal and District Heating Systems:
The introduction of metering is proven to deliver to benefits for Residents and Owners/Operators alike:
Heat charges fall by on average 20%
Carbon emissions related to the heating system also fall
All Residents are charged fairly based on consumption
Operating costs for the heating system are all recharged to Residents
Metering equipment and billing costs are paid for through energy savings
It is because of these benefits that the updated Heat Network (metering and billing) Regulations have been updated to promote the installation of meters on all shared heating systems.
The attached link to a Europe wide study shows the impact of introducing metering to several existing heating systems in a variety of countries – this strongly supports the potential savings of 20%:
Heat Network (metering and billing) Regulations
Any heating system providing heating to more than one domestic or non-domestic customer is a Heat Network and is covered by the Regulations
All Heat Networks must be Notified to the Office of Product Safety and Standards (OPSS)
All Heat Networks that are unmetered must have been notified to OPSS by 27th November 2021 (even if previously notified)
The updated Notification requires an assessment of feasibility for metering
For any Heat Networks where metering is feasible, meters should be installed by 1st September 2022
The infographic shown is a handy summary of the implications and requirements of the updated legislation.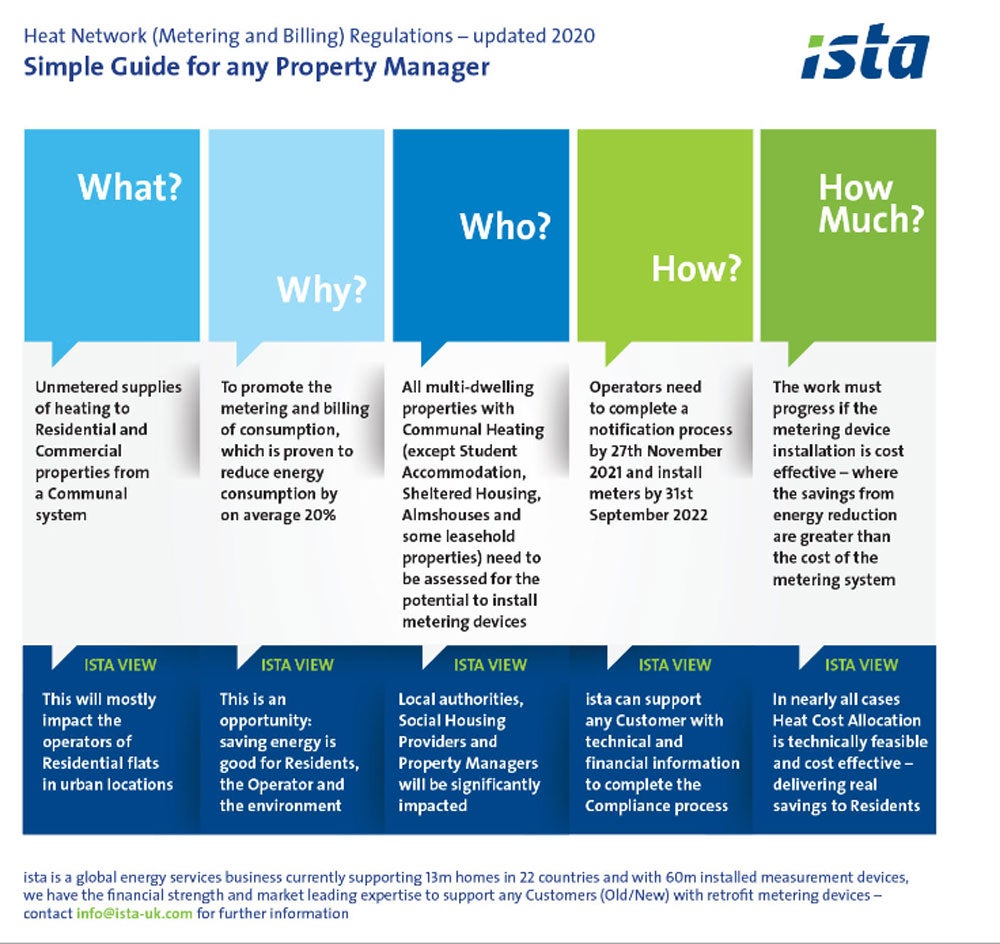 Our team would be very happy to discuss the detail of the requirements and to assist the assessment of feasibility for metering – free site surveys and quotations will be provided to allow the economic assessments to be completed is the simplest fashion, the OPSS Reduced Input Cost Effectiveness Tool.
The link to the OPSS website can be found here: https://www.gov.uk/guidance/heat-networks
Why Heat Cost Allocation is included in the Regulations
Heat cost allocators are simple pieces of metering equipment that have been designed specifically for the metering of existing heating systems. Each radiator in a property is fitted with a heat cost allocator – it takes around 10 mins per radiator and is non-intrusive.
These units then collect details of the radiator use and remotely transmit this data via a secure radio network back to ista so that the consumption-based bills can be produced.
The low cost of the allocators and the simplicity of the billing process – which is currently used for 13m homes across the world – means that the overall system is very cost effective. It is expected that most unmetered heating schemes will deliver cost savings to Residents using heat cost allocation, even when taking account of all costs to install and operate. The additional benefit is that the billing is fair to all Residents at a time when occupancy patterns have changed dramatically.
Your browser version is outdated
In order to use our website without problems, we recommend to update your browser version. More information you will find on the website of your provider: Mozilla Firefox
Your browser version is outdated
In order to use our website without problems, we recommend to update your browser version. More information you will find on the website of your provider: Microsoft Internet Explorer