SmartPay Prepayment Billing
Low-cost installation using wireless IoT communication
Using LoRA IoT technology, any site – new or existing – can be fitted with the newly updated and state-of-the-art ista SmartPay system. The use of a reliable and powerful wireless IoT system lowers the cost of installation during construction and minimises the disruption in a retrofit situation.
---
Operates in Credit, PAYG or Pre-payment billing modes
Our new real-time billing system that supports the SmartPay equipment allows the customer to chose how each Resident is managed. A structured and agreed credit management process can be agreed to automatically and remotely convert a Resident from credit billing to PAYG and or at a later date to Pre-payment – giving a reliable and efficient credit control solution.
---
24/7 access to all account information via myista portal
The ista myista portal provides full access to the account details of each Resident at any time of the day or night. The portal works on any smart device and allows the user to make payments, see account history, contact ista and even to top meters at PayPoint locations. The myista portal is the easiest and most efficient way for a user to manage their utility bills.
The myista portal changes according to the type of billing in place for each end user and therefore there is no need for any further equipment to be installed other than the control unit – a significant saving on capital expenditure.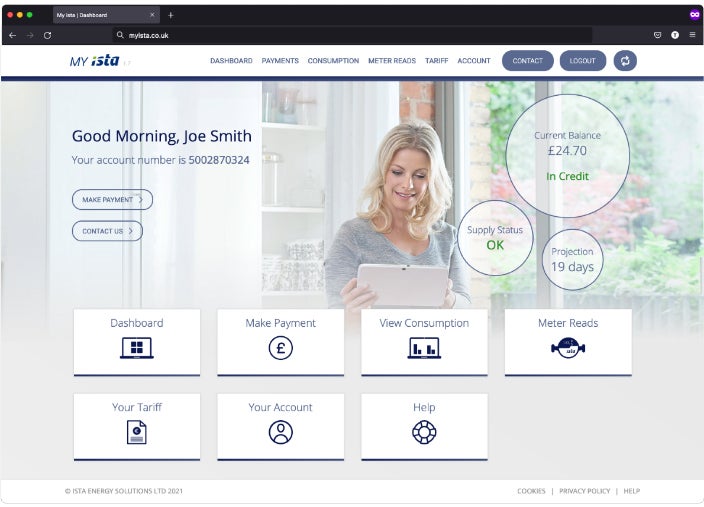 ---
Option to add in-home display at anytime
A SmartPay display screen for the end user can be added at anytime and at any location in the property - the screen connects directly to the LoRA network.
---
Multiple payment options including PayPoint
A variety of payment options are provided for the residents:
Direct debits
BACs
Directly using myista for debit or credit cards
Auto-top options for PAYG or Pre-pay users
PayPoint – using a barcode on a smart device or as sent the user by e-mail or post
Over the phone during office hours
Cheques can be sent into the office
---
istaCare portal gives Property level overview to Customers
Our bespoke istaCare portal is used by our Customer Services team to manage the details of all accounts. The system holds consumption data, all billing information, the status each account and any correspondence or work reports. This system is provided to our Customers to provide full transparency of the properties and accounts managed by ista on their behalf.
This system allows Customers to check collections for each property and review the account of any resident in their properties.
---
Upgrade options available:
The IoT infrastructure installed to enable SmartPay can be enhanced and extended to offer additional benefits and enhanced customer experience. Some examples are follows:
Additional IoT devices can be added e.g. air quality monitoring
HIU integration with Modbus interface for full remote access to allow diagnostics, proactive maintenance and system adjustments
Remote connetions for meters and HIU supports CP1 best practice for remote commissioning and detailed performance tracking
Full heating system performance and efficiency monitoring reporting – in particular for SECR submission and supporting ESG funding requirements
---
Open protocol system
The ista SmartPay system is built to allow the equipment to transfer to alternative suppliers should ista's services no longer be required. Our Open API is available to allow other billing systems to interact with the equipment for continuity of billing between providers.
---
ista Billing Services
ista billing services are simply and competitively priced.
We charge one rate irrespective of the billing type selected for resident, making transfer between each type simple and easy to manage.
Our simple one-price billing charge includes annual tariff setting, changes of tenancy and access to our bespoke portals for Customer and Resident alike.
There are no additional licensing fees or charges except for a small initial fee to set up new properties and the rental of any communication gateways.
Our approach to billing is aligned with the core values of ista. Transparency, Trust, Partnership and Reliability at the heart of what we do.
If you have a heat network, contact ista and allow us to provide you with a simple, clear and competitive quote for the management of your metering and billing services.
---
For more information please email info@ista-uk.com or alternatively, fill out the contact form below:
Your browser version is outdated
In order to use our website without problems, we recommend to update your browser version. More information you will find on the website of your provider: Mozilla Firefox
Your browser version is outdated
In order to use our website without problems, we recommend to update your browser version. More information you will find on the website of your provider: Microsoft Internet Explorer