Technology - Tailored to your individual needs
In each property, the conditions and metering equipment are different. Our extensive range of products and solutions for consumption measuring, meter reading and billing of costs for cooling, hot & cold water and electric is tailored to the individual needs.
Chilled Water Energy Meters
Precision and accuracy in energy metering
In times of increasing energy costs, it is important to measure and control energy consumption accurately. We meet our costumers' requirements by offering a variety of highly advanced cooling metering instruments.
Chilled Water Energy Meters, commonly referred to as BTU meters, can be defined by the measurement of heat/chilled water energy consumption.
The BTU meter comprises of a flow measurement sensor, two temperature sensors and a microprocessor based energy calculator. The Flow Sensor shall be installed in chilled water return lines in the direction of the chilled water flow either in vertical or horizontal position. The two temperature sensors, one sensor shall be installed on return line and the second sensor shall be installed in supply line. The quantity of thermal energy transferred from the cooling water to the consumer over a defined period of time is proportional to the temperature difference between the flow and return and the volume of cooling water that has flowed through.
ista offers two types of BTU meters, one with ultrasonic measuring technology (ultrasonic BTU meters) and other with conventional multi jet impeller (mechanical BTU meters).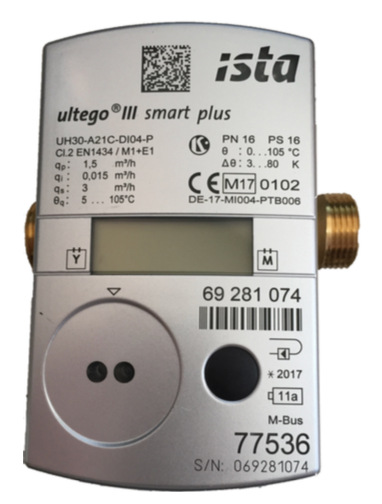 Ultrasonic Cooling Meter
Precise measurement of energy consumption
The cooling/heat meter generation ultego III with their different series and sizing provides a multitude of combination and application possibilities. The compact version ultego III smart plus and the modular type perfect III range consists of a calculator, flow sensor and temperature sensors. The calculators can be removed and mounted separately and the two external sensors specified at a number of lengths to meet all requirements. Both series can be provided with a number of integrated communication modules and are compliant to the European Measuring Instruments Directive MID.
Application:
Cooling / heating systems with water as a cooling/heat carrier
Transfer stations
Larger cooling/heating systems in apartment buildings
Flow range : 0.6 to 60 m3 / h
Your Benefits
Accurate, reliable and wear- free measurement
Precise detection of even the smallest flow rates
Insensitive to dirt and mess resistant
Extremely low energy consumption
Low pressure loss
Fast, intelligent temperature - measuring grid
Can be installed horizontally or vertically ( III ultego smart plus even upside down with removable calculator )
Measuring range of flow 1: 100 to EN 1434 , total 1 : 1000
Tamper-proof by sealing
Features of the ultego III
ultego III consists of a flow measuring section with two integrated ultrasonic sensors and an electronic calculator with bus output and a lithium battery. The battery life is 10 years plus one year reserve. Flow meters with a nominal flow rate from 3.5 to 60 m3 / h can be delivered.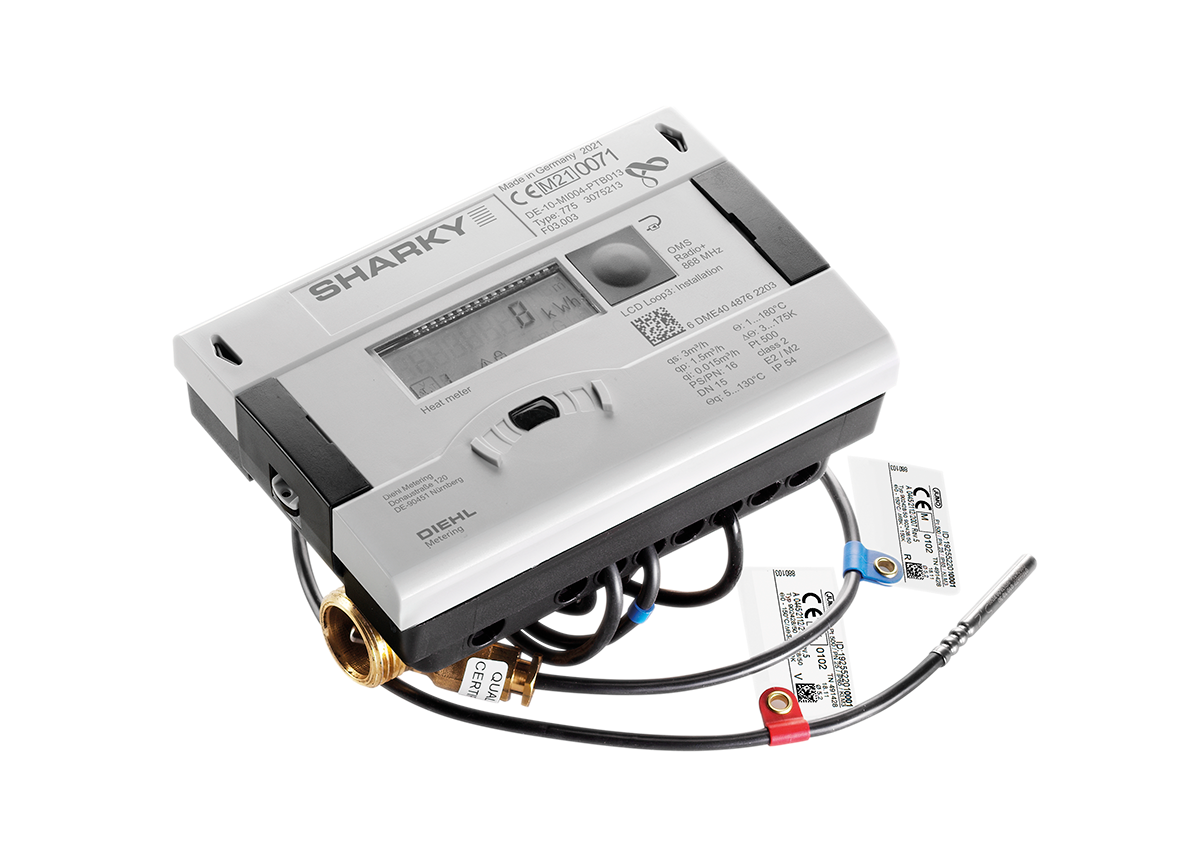 Ultrasonic Cooling Meter - Diehl Sharky
The ultrasonic compact energy meter can be used for measuring the energy consumption in heating / cooling application for billing purposes.
Features
Approval for ultrasonic meter with dynamic range up to 1:250 (qi:qp) in class 2 (depends on meter size), standard 1:100
Improved power consumption --> longer battery lifetime. Approved according MID in class 2 and 3 and PTB K 7.2 (cooling)
High long term stability, tested and verified at independent AGFW test
Insensitive against dirt
Versatile possibility of power supply
Optional with integrated radio, Real Data or Open Metering Standard (868 or 434 MHz)
Individual remote reading (AMR) with add on modules Plug & Play 4 Extensive readable data memory
3 communication interfaces (e. g. M-Bus + M-Bus + Radio)
Significantly improved radio performance
Water meters
Water meters - Metering water with a system
Water meters measure individual water consumption. Whether hot or cold water, in the kitchen, bathroom or cellar, in a new build or old building: we have the appropriate version for every field of application.
The M-Bus system
M-Bus system - Instantaneous control, flexible reaction
All meters connected to the symphonic M-bus system can be read centrally: either directly on the spot or by data transfer to an external central control. This improves the quality of life for your tenants, and enables you to monitor the energy balance of the building more flexible.
Your advantages
Connection of up to 2,000 consumption recording devices possible
Use of commercially available electric materials
Simple installation
M-Bus cable protected against reverse polarity
Various line topologies (star, tree and linear structures)
Benefits of central wired readout with symphonic mbus
Frequent and fast meter reading possible (electronic data can be directly put to other uses)
No problems gaining access to homes as the users do not have to be disturbed (advance notice unnecessary)
Avoidance of meter reading errors guarantees high reliability